Written by: Sam Isham
Are you looking for the best custom home builders for your dream home in Fayetteville NC, Hope Mills and the surrounding areas? We have reviewed the top tier house builders in the area and have presented nine of them here. Please note that the order they are presented does not determine if one builder is better than the other. These are all stellar companies and you can hardly go wrong with any of them. Right from the planning phases of site selection, they do a great job of making your dream house a reality. So, read on to determine the best home builders for your North Carolina cozy dream custom home.
Top Best Custom Home Builders in Fayetteville NC And Hope Mills Area, Plus Land Development and More
Following are some of the best new home builders in Fayetteville, NC. Most are members of the Home Builders Association Fayetteville NC and understand the national as well as local trends.
1. SLiJR Construction — a Top-Tier Fayetteville Custom Home Builder of affordable quality homes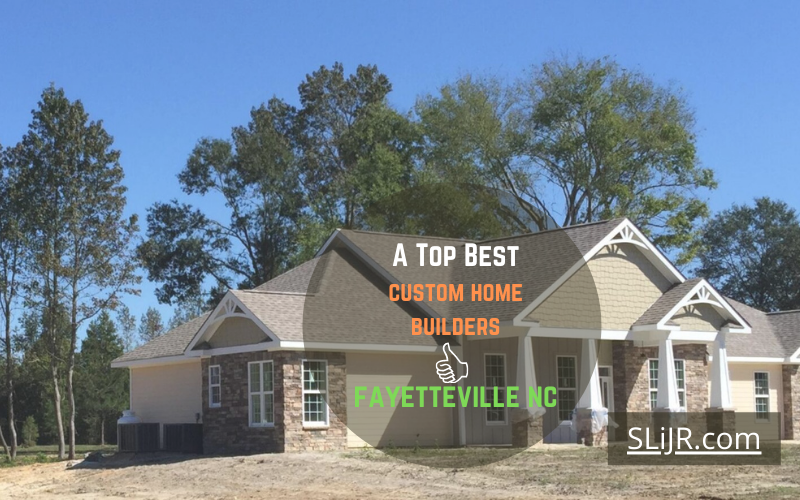 This is the company I founded. As the president, I bring to it my more that 20 years of experience in the home and commercial construction industries. As one of the premier custom home builders Fayetteville, NC can boast of, at SLiJR, we build beautiful homes and most other types of projects in Fayetteville and NC, but more importantly, we treat you as if you are our only customer. We always guarantee your satisfaction at every stage of your new home construction process.
So, if you're in need of a new commercial or residential building, our professional builders are always ready to take on your project. We can help you renovate an outdated home or commercial complex or create a stylish design built residence on your own choice lot or we can help your find the perfect location. We only use highly trained construction professionals in the business. Indeed for new construction homes Fayetteville, NC needs someone who understand the place, and none do so better than SLiJR.
2. Riverstone Construction and Home Improvements – A Top Among custom Home Builders in Fayetteville nc
Riverstone Construction and Home Improvements counts among the best home builders in Fayetteville NC. It offers a variety of services, including: plumbing, electrical, HVAC systems, and general contracting. Serving the Fayetteville and Fort Bragg areas, they have over 20 years of experience with making customers happy.
Besides their extensive list of services, Riverstone Construction also stands out because of its commitment to its customers. They employ a full-time staff that will listen to your needs, provide honest advice, and keep you informed throughout the entire process.
3. Paragon Building Group — one of Fine best Custom Home builders in fayetteville nc
Paragon Building Group is a renowned commercial and residential construction builder serving the Fayetteville area. Founded by Josh Mauney, they have built a reputation for integrity, innovation, and timeliness. With an excellent track record, they have received the highest reviews from previous clients.
To exceed your expectations, Paragon Building Group takes the time to understand your concerns, offering valuable advice based on their expertise. They are honest, reliable, and hardworking – you can trust that they will deliver a great service.
Paragon Building Group has also been awarded the highest level of certification by the North Carolina Home Builders Association.
4. J Lynn Company, LLC — Another custom House Builders helping build affordable quality

This is a full-service custom home remodeling entity that offers expert craftsmanship. Their skilled workers know how to turn ideas into reality. This company will help you redesign your home, no job too large or small for them. It is their belief that beautiful, custom built homes are part of the American way of life and is something every homeowner should take pride in.
J Lynn Company was founded in 2003 by Patrick J. Lynn, who has a background in architecture and construction. They have built a reputation for reliability, integrity, and timeliness.
5. Stanton Homes – A Top Fayetteville NC Custom Home Builder, Including fine houses for sale
Stanton Homes is a national builder that has been building quality homes since 1965. Their team of highly skilled builders designs and builds both new homes and remodels existing homes to make them the perfect space for each family.
They take the time to listen to what you want, offering honest advice based on their expertise. As a result of their commitment to their customers, Stanton Homes has received awards after awards for their workmanship, hence their inclusion here as one of the best home builders in Fayetteville, North Carolina.
Featured:
6. Bolton Builders Inc – in the class of best Custom Home Builders in Fayetteville nc
Bolton Builders Inc. is a trusted construction business in Fayetteville, North Carolina. It offers high-quality workmanship for both new homes and remodels. With more than two decades of experience, Bolton Builders Inc. has completed over 2,000 projects that have made an impact on the lives of its clients.
They offer a wide range of services from design to build custom homes or remodels. They pride themselves in their ability to exceed the expectations of every client they serve by using the highest grade materials and products on every project so you can trust them with your new home project.
7. Daniel Adams Construction – Another of best Home Builders in fayetteville nc
This potential home builder of your new home has received several recognition for its outstanding workmanship. It has been awarded the prestigious Quality Dealer Award by Andersen windows and doors, a company that has been building superior windows and doors since the early '70s. In addition, it won an award from National Association of Home Builders and was nominated among the top builders in North Carolina.
Daniel Adams offering in construction services include a variety of design build homes or remodels, as well as luxury additions like pools or outdoor living spaces.
8. The Tuscan Group, Inc. – Yet Another of Top Custom Home Builders in Fayetteville nc Area
The Tuscan Group, Inc. is a premier new home and commercial builder in Fayetteville. This home builder offers outstanding work and customer service, offering both new construction and remodels for homes or businesses.
The Tuscan Group is committed to exceeding your expectations, which makes them one of the best builders in Fayetteville, NC.
9. Jarman Homes – Also among Best Custom Home builders in Fayetteville nc Area
Jarman Homes is among the notable home builders in Fayetteville area, NC. Whether it's a new house or remodels, they can do it. What earns them the title of one of the best home builders in Fayetteville and North Carolina is that they have completed over 300 projects in the past 15.
The main goal of this Fayetteville new house builder is to construct something beautiful with integrity, quality, and trustworthiness.
Wrapping Up
There are many benefits to having your own custom house designed built, but one of the most important is that they are tailored to your needs and preferences. This means that you can literally design your home from the ground up, which means you can customize it in any way that you want. And what better place than North Carolina to do that, build your own house?
Among the most important factor after you have decided to build your dream custom home is choosing the right builder. Indeed, it can make the difference whether you enjoy the process of getting to the finished product for your new home and the caliber of the completed house.
We hope that this review of some top home builders in the Fayetteville area NC has helped. Of course we hope you'll trust SLiJR with your new home project and take advantage of our associates many years of service in the business.
You'll also benefit from SLiJR's attention to details, from understanding your style and the needs of you and your family, site selection and breaking ground, to energy efficiency in your new house. Indeed, we believe in building beautiful homes starting with giving you a fantastic building experience. We endeavor to always be the home builder that stands taller than all other home builders in Fayetteville and NC. Contact us below today . Serving you will be our utmost pleasure!
Bonus Tips – 3 common mistakes when choosing a Home Builder
It can be difficult to find the right home builders in NC with prices that fit your dream house vision. The following are three common mistakes that people make when choosing a builder.
Mistake 1: Choosing a Builder Based on Price
Builders, an Fayetteville is no exception, usually offer different packages and pricing levels, so it is not always true that the cheapest option is the best one. Ask questions and you may even compare prices with another home builder for their new cosnstruction homes in Fayetteville, NC, as with many other regions.
Mistake 2: Not Considering Ongoing Costs
Some builders charge a monthly fee for their services, while others charge an upfront fee with no further costs. It is important to consider these ongoing costs when comparing builders as they can add up quickly over time and end up costing more than you originally thought.
Mistake 3: Not Considering Customer Support
Some house builders have a good customer service team and others don't. It is important to consider how the builder will respond to any issues that may arise during the build process.
About the Author